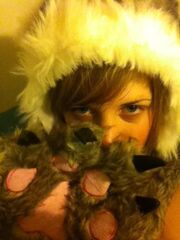 I have been playing Pokemon since the release of Red & Blue
I own several different titles in the Pokemon franchise.
I am on this site because I like the occasional kick in the childhood.
I am aspiring author and love to write fan-fictions.
I have never been on a wiki before this one.
I plan on helping to add substance to all the shorter stories in dire need of editing.
I appear to be of the Female, Homosapien species, though I could be a triceratops.
I was born and raised in the USA but relocated to Germany.
I am a lesbian and no you can't watch.
True Gamer Girl* -- not a controller licker.
My favorite pages
Community content is available under
CC-BY-SA
unless otherwise noted.